Well now you've gotten to the meat and potatoes of this page of mine. Knock yourself out. It's nice to finally have an audience for this stuff.


Notice anything missing? I made an adjustment to the page that moved some of the extraneous pieces over to the Everything Pages. Plenty of room for it over there, hopefully making this page quicker to load. Haven't yet decided to split this page in two (mainly because there's only one new image to add this time around), but who knows how much will be online next time around? Thanks for all who offered their their experience viewing this page.


Do YOU have any comments? Write to me at: SouthrnFox@aol.com

---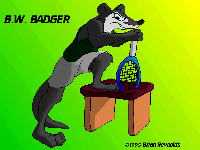 Bwbadger.gif (45KB) 640x480x256>>> B.W. Badger: Energetic, funloving troublemaker. Care for a raquetball match? Maybe armed combat?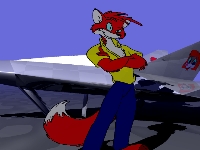 Chetjet.jpg (52KB) 640x480x24bit>>> Chester Fox poses before Joe Hamdorf's "SquirrelStar 1" Yep, it's a 3-D model.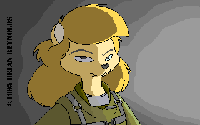 Cynthia.gif (16KB) 640x400x256>>> Cynthia Knight. Rudimentary design for one of the characters I plan to use down the road in a major (read: takes forever to finish) animation project.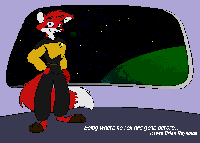 TrekChet.gif (17KB) 505x433x256>>> What's this? Is this a reference to... ? Naaaaahh.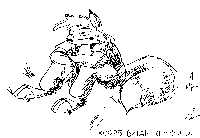 Grassy.gif (9KB) 600x415x2>>> Chester Fox sits down in the grass and contemplates the distant setting sun.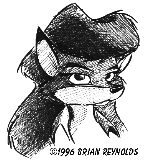 Tawnya.gif (71KB) 391x428x256gray>>> Introduce yourself to Tawnya Redgrave.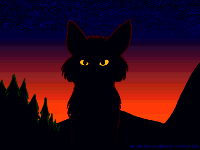 NightFox.gif (51KB) 640x480x256>>> This is an interesting moody piece I did just for the sake of having fun with silhouettes.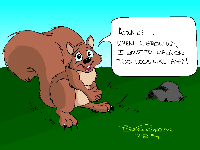 Squirley.gif (40KB) 640x480x256>>> Awwwwww! Cute little squirrel, what do YOU want to be when you grow up?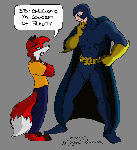 Chetncap.gif (32KB) 438x480x256>>> Chester Fox gives Captain Titanic something to chew on.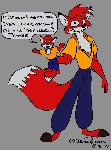 Puppet.gif (30KB) 444x600x256>>> Okay, okay... I guess I DID get a little tired of selling hundreds of thousands of Lion King stuffed animals, and earings, and socks, and bibs, and bubble bath, and...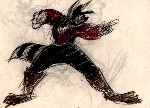 Coon.jpg (51KB) 640x461x24bit>>> This is a conceptual sketch of yet another character from my major animation project. A bit off on the sanity scale perhaps.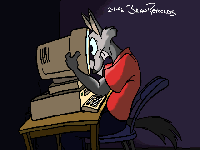 Trnsfixd.gif (35KB) 640x480x256>>> Your typical canine internet denizen...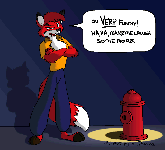 Fireplug.gif (35KB) 529x480x256>>> I think this one pretty much speaks for itself.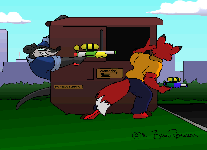 Soaked.gif (45KB) 640x480x256>>> Ahhh... the element of surprise is always cherished in those all out water wars.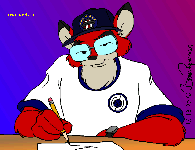 Artist.gif (44KB) 625x480x256>>> This is a silly little caricature of myself getting a bit too caught up in my work.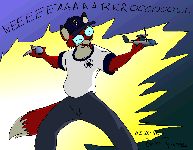 LiteHart.gif (52KB) 617x480x256>>> You know, it's like Robin Williams said... "You've GOT to be a little crazy to get by in this world."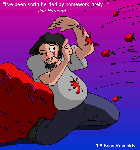 Berried.gif (35KB) 563x600x256>>> Heh heh. Despite his amazing prowess with the computer, Joseph STILL manages to undermine himself with his spelling. Even when he gets it RIGHT, it's still wrong... and boy, did he ever get it wrong this time....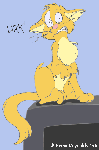 Frenzy.gif (21KB) 333x500x256>>> Hey hey, -it's Frenzy the cat! Guess he must have had a rough night. Break out the coffee dish!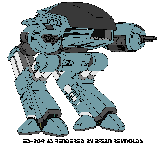 Ed-209.gif (36kb) 978x888x256>>> This is a drawing I did as a proposed hack sprite for Doom. Not much came of it, but it's still a real purty drawing. I surprised myself with this one. The scan and coloring isn't too good, but that's not what's important with this image.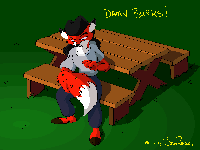 Burrs.gif (41kb) 640x480x256>>> The Great Outdoors sure is great, isn't it? Well... some of it is better than others.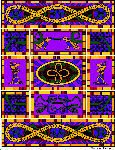 Carpet.gif (60kb) 462x480x256>>> This was my final project for Medieval Art and Architecture. It's designed to reproduce the look and feel of the art created by the 9th century Germanic tribes of northern Europe. Cloissonic, eh?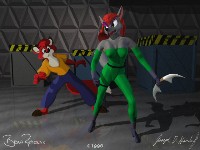 Wuzzat.jpg (65KB) 640x480x24bit>>> This should be only the first in a series of experimental pictures combining 2D and 3D characters. You can consider it to be a study in "dimensional freaks". Joe Hamdorf is doing the 3D work, while I'm filling in on the 2D aspects. So far I'm amazed at how well it's working.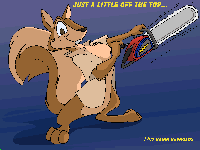 Squrlsaw.gif (45KB) 640x480x256>>> Squirrely here is a character I redesigned for a Tree Surgeon business in Savannah. Imagine that!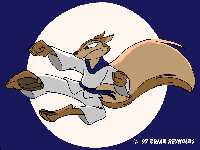 Bigkick.gif (32KB) 640x480x256>>> Coincidentally the fellow in charge of the Tree Surgeon clinic also runs a Tae-Kwon-Do club using the same character for the logo. I had alot of fun with this project.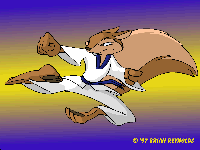 Bigkick2.gif (41KB) 640x480x256>>> Same pose as above, but slightly reworked for a more 'In your face' feel.

These are four pictures I did for my Electronic Painting class. Believe it or not, these were created entirely on a computer. No paper, no scanning, nothing. I used Fractal Design Painter v3.0 and a wacom digitizing tablet. This was my first experience using the software, and I feel that the images could be much improved with more practice, but I like them as they are. For curiosity's sake, "Hangin.jpg" is an elaborated picture I'm using to check the staging of my storyboard and future animation, while "Sleepy.jpg" is a somewhat loose caricature of both my workspace at home and the physical state I can usually be found in when I'm there.

---
I've had my fill here, let me get back to the main page.
---